Video games industry: Rise of the 'bedroom' developer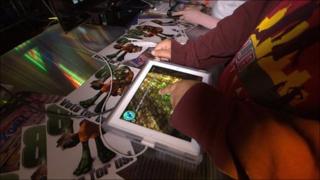 A father and son stand in front of a pair of large computer screens, posing comically as they calibrate a wireless controller underneath the monitors.
The pair, bathed in coloured light from ceiling spotlights, then begin running maniacally on the spot before flying with their arms as their on-screen characters take off.
They're in a packed Caird Hall in Dundee, on the opening day of Scotland's biggest video games festival - Dare ProtoPlay. The hall is crammed and buzzing with excited activity as people try out the games on display.
The queue to get in snakes out of the main doors and around the square outside. By that measurement, there appears to be a healthy demand for computer games.
Job losses
Yet the scene contrasts sharply with the doom that seemed to be infecting the city's video games industry almost exactly a year ago.
On 17 August 2010, one of the UK's biggest games companies - Dundee-based Realtime Worlds - went into administration with the loss of more than 150 jobs.
The company's collapse followed disappointment in the sector as the coalition government at Westminster cancelled planned tax breaks for the industry.
Many experts predicted these hi-tech firms - full of young, mobile people - would simply move abroad in search of more sympathetic tax regimes.
This once flourishing part of the Scottish - and the UK - economy was in terminal decline, they said.
But the city's Abertay University, one of the few places in the UK you can take courses on video games design and development, is still churning out graduates keen to make their mark in the sector.
One of them is Martyn Hunter, a 21-year-old from Kirkcaldy in Fife, who believes the collapse of Realtime was more a sign of rapid change in the industry, rather than a symbol of its decline.
On starting his course three years ago, his ambition was to work on a big blockbuster title like Call of Duty or Grand Theft Auto - but now he's more interested in becoming an indie games producer and join the the "bedroom developer" revolution.
"Triple-A titles, major mainstream budgets just aren't going to work these days," he says.
"I personally think that smaller, casual games for mobile platforms, Facebook and social networks are the way forward, because they require a lower budget and give a lot more creative freedom - which gives birth to such amazing new games."
Far from being "depressing", Mr Hunter says it's actually a time of incredible opportunity for graduates entering the sector.
"It's very inspiring and very exciting to be able to have the technology in your bedroom where you can sit down with a couple of friends and build something new," he says.
"You can post it online. You don't need a publisher and you don't need any funding."
In contrast, blockbuster titles need two or three years to develop and cost millions of pounds to bring to market.
And the companies that make them can live or die by the game's success - it was the lukewarm reception to Realtime's last game, All Points Bulletin, that finally tipped it into administration.
Big games are big risk, especially during an economic downturn, when consumers are more reluctant to splash out £80 on a game when they can often play titles on Facebook or their smartphone for free.
But how do you make a living developing free or very cheap games?
Colin Macdonald, former studio manager at Realtime Worlds' says the key is that developers making "casual" games now have a global audience at their fingertips.
For an indie developer overheads can be close to zero, development costs are cheap and there is no reliance on retailers having shelf space for your product.
Instead, games are sold in app stores or on websites.
Mr Macdonald says there is still a "buoyant" market for big budget titles, but more and more developers are going their own way.
"You've got a potential audience of hundreds of thousands, of millions, of tens of millions," he says.
"Even if you just charge pennies or a couple of pounds here and there - multiply that by tens of millions and it's huge money. Absolutely huge."
He cites the example of 32-year-old Swedish developer Markus Persson who released a game called Minecraft in 2009. Two years later, he has sold more than 3,000,000 copies and was estimated in April 2011 to have made 23m Euro (£20m) in revenue.
Even games that are given away for free can make money, with players offered opportunities to spend on extra functionality or access to more levels.
"We've seen countless examples over the last couple of years where one person or two people have literally made a game in their bedroom and are millionaires off the back it it," adds Mr Macdonald, who now works for games studio eeGeo.
"They're selling it to millions of people and they're getting all that money themselves."
'Facebook mums'
But it's not just the lack of friction involved in building and selling a "casual" game, it's the potential new audiences available.
As smartphone ownership continues to rise and use of social networking websites increases, developers are finding that it's easier to reach groups that traditionally haven't played video games.
This potential is summed up neatly by another Abertay graduate while brainstorming ideas at the festival "games jam" - a challenge to build a game from scratch in just three days.
"My mum plays games on Facebook," he confides to the group. "That's all you need to know."