Dundee explorer's search for 'lost city' of Paititi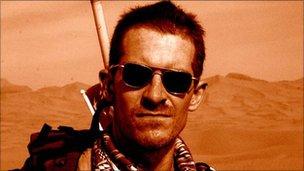 A Dundee student is going on a quest to find a legendary Incan city of gold that has been eluding explorers for hundreds of years.
Ken Gawne, from Northern Ireland, will be part of a four-man team searching for Paititi on a journey through remote Peruvian rainforest.
According to legend, Paititi is where the Incas hid their treasures from the Spanish conquistadors.
The explorers will spend three weeks in Peru looking for the lost city.
The trip is the latest in a series of adventures for Mr Gawne, 28, who has been on an expedition to China and crossed the Sahara Desert in west Africa - using the journeys to make an Indiana Jones tribute film called Treasure of the Templars.
The Dundee University psychology student said the plan to look for Paititi came from a conversation with his Norfolk-based team mate Ian Gardiner, who will be the expedition leader in Peru.
"Basically Ian said one of the things he would like to do before he was 30 was to go to the jungle to find the lost city," he said.
"I asked him if he was serious about it and took it from there. I became really interested really quickly because it is a very exciting idea and a once-in-a-lifetime chance."
Also on the expedition are writer Ken Halfpenny and cameraman Lewis Knight, who are both based in Dundee. The team also hopes to be joined by German archaeologist Jens Notroff.
They will take a satellite phone with them on their expedition, and plan to update their website live from the jungle. They also plan to make a documentary about their exploits.
Mr Gawne added: "We have spoken to a previous explorer Gregory Deyermenjian, who has been looking for the city for 20 years and he has been fantastic.
"He has found about 15 different settlements so we will be looking in an area where previous things have been discovered.
"When you are in the jungle it is very dense and as far as you can see is what has been explored so I think we have as much chance of finding something as anybody."
The four men will leave the UK for Peru later this month.
Related Internet Links
The BBC is not responsible for the content of external sites.