Lottery boost for Bannockburn battle centre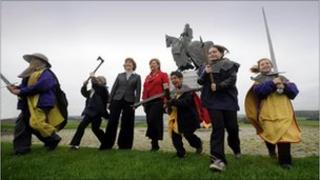 A new visitor centre to be built at the site of the battle of Bannockburn has won £3.6m of lottery funding.
Historic Scotland and the National Trust for Scotland are working together to build the centre by 2014.
It will commemorate one of the most significant battles fought on British soil, between Robert the Bruce and Edward II in June 1314.
The £3,692,100 grant and £163,000 of development funding has been awarded by the Heritage Lottery Fund.
The new centre was announced in October. It will use "cutting edge" technology to offer visitors a true sense of the battle - from social history to medieval war craft, Scottish Culture Secretary Fiona Hyslop said.
She added: "I am delighted that the Heritage Lottery Fund has given its initial support for the ambitious vision we have for the new centre to mark the 700th anniversary of the Battle of Bannockburn.
"We announced the £5m of initial investment from the Scottish government only last year and the project has come on leaps and bounds since then."
'Historical significance'
The centre will be completed by 2014 - the 700th anniversary of the battle and also the year that will see Scotland host the Ryder Cup, Commonwealth Games and the second Year of the Homecoming.
The Lottery funding awarded is a first-round pass, meaning that the project now has up to two years to submit a full proposal.
Colin McLean, head of the Heritage Lottery Fund in Scotland, said: "To this day, the Battle of Bannockburn inspires artists, writers and political thinkers worldwide and is intrinsically linked to Scotland's national identity.
"We are delighted to give our initial support to a project which will take the visitor experience to a new level, commensurate with the historical significance of this heritage site."