T in the Park: Revellers ready for music festival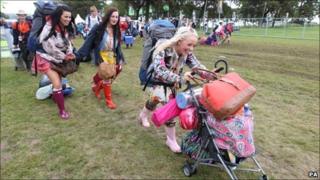 Thousands of people have begun gathering in Perth and Kinross for Scotland's largest music festival.
Two hundred acts will appear over 11 stages during the T in the Park festival, which runs until Sunday.
Those performing include Arctic Monkeys, Foo Fighters, Tom Jones and Eliza Doolittle.
About 85,000 people are expected to visit the festival in Balado, near Kinross, with many arriving on Thursday evening to set up camp.
Five thousand extra camping spaces were made available this year in a bid to spread arrivals and ease the traffic congestion of previous years.
Ecstasy warning
But campers are facing the prospect of gloomy weather, with heavy rain forecast throughout the weekend.
Hours before the first acts take to the stage, Tayside Police reminded festival-goers that the use or dealing of illegal drugs will be dealt with in a "robust way".
The force has also warned people about the dangers of high-strength ecstasy following recent deaths linked to the drug, which police say is sold for about £10 a pill.
Ch Supt Craig Suttie, event commander for T in the Park, said: "We are aware of ecstasy tablet that is being pedalled in certain parts of Scotland that is reported to be six times the strength of other ecstasy pills.
"Clearly, anyone who takes such a drug is dicing with death. Indeed, anyone who takes drugs can have no inkling of what its strength is or what other chemicals it might contain.
"Please listen to the advice and avoid drugs altogether."