Bracklinn Falls Bridge wins international award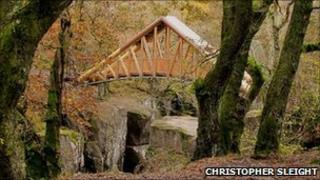 A bridge across a spectacular gorge built to replace one lost in floods seven years ago has won an international award.
The bridge over Bracklinn Falls near Callander, Stirling, was highly commended at the International Footbridge Awards.
Built with timber and copper, it weighs 20 tonnes and cost £110,000 to install.
The structure, designed and built by Strong Bridges Ltd, was entered in the "aesthetics short-span" category.
Because of the location of the gorge - deep in mature woods with no road access - the use of cranes or helicopters to install the bridge was impossible.
Contractors built the structure next to the falls after the materials, including four Douglas Fir tree trunks, were delivered by quad bikes and four-wheel drives.
The bridge was then placed on steel skids and hauled across the 20m (66ft) wide gorge by hand.
'Herculean effort'
Project manager Kenny Auld, from Loch Lomond and the Trossachs National Park, said: "We're delighted that Bracklinn Bridge has been formally recognised with this award.
"It was a Herculean effort by Malcolm Strong and his team to winch the bridge into place and they deserve full credit for overcoming the challenge of constructing the bridge in a remote area."
More than 20,000 people visited the bridge between March and June this year, according to the national park.
John Snodin, director of the Callander Community Development Trust, said: "The interest that has developed in visiting the Bracklinn Falls Bridge since its opening last year is quite staggering, proving that the building of such an iconic structure was well worth the effort."