Blairgowrie hunts for champion jam-maker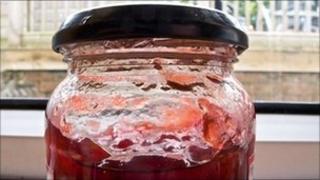 The search for the "world's best" jam-maker has been launched in the heart of Scotland's soft fruit growing area.
Competition organisers in Blairgowrie, Perthshire, said they were hoping for jam-makers from the UK and abroad to bid for the "world jampion" title.
There is also a junior section to the competition, which is open to entries until 16 August.
The winners will be announced at the Dundee Flower and Food Festival in September.
Kay McClement, who helped organise the competition, said: "Most families have a favourite jam maker, and we would like to see those people get the recognition they deserve, and also tempt newcomers to try their hand at jam making.
"Now we want people to get their pans at the ready and start filling their kitchens with the sweet smell of success."
As well as the "world jampion" title, winners will be chosen in several categories, including artisan and homemade.
Restaurants, hotels and B&Bs will also have their own section.
The judging panel includes cook and food writer Lady Claire MacDonald, Willy Macleod from Scottish Preserves and Shirely Wallace from the Scottish Women's Rural Institute.