Cyclist Mark Beaumont takes on Arctic rowing feat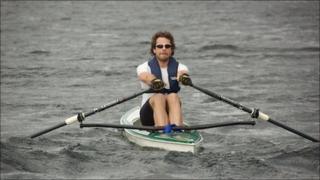 In a few weeks, the man who cycled the Americas will set off for the Arctic Circle. Only this time, Mark Beaumont is leaving the bike behind and taking a rowing boat.
By his own admission, Mark Beaumont is a novice rower.
He rowed fours when he was a student at Glasgow University - but it was nothing to prepare him for the 500-mile (805km) ocean journey he is about to undertake.
"I would not call myself an experienced rower. I started from scratch in November," he says.
Any long distance ocean row is a significant challenge, but this one is through some of the most treacherous waters in the world.
The team of six, led by adventurer Jock Wishart, will endure weeks of gruelling rowing - sometimes hauling the boat over ice floes - as they sprint north between bouts of bad weather at the end of the Polar summer.
Fracturing sea ice and hungry polar bears will add to the danger on the journey from Resolute Bay in the Canadian Arctic.
And everything the six men need will have to be crammed, with them, into their Kevlar-reinforced rowing boat.
"It's a big, heavy boat and you definitely need good technique," says Beaumont.
The 28-year-old, from Perthshire, shot to fame in 2008 after smashing the round the world cycle record by 81 days.
Two years later to the day he completed his mammoth cycle journey from Alaska to the southern tip of Argentina.
So why the switch to water?
Beaumont says that for years he has nurtured a dream of making an ocean journey, and sees rowing as cycling's "sister sport". For the self-powered adventurer, cycling is the most efficient way to cross land. On water, it's rowing.
"I think people will be surprised to see me getting off the bikes - they've always seen me as a cyclist. But for me it's always been a mode of transport," he says.
"I didn't plan to start my ocean-rowing days in the Arctic, but that's the way things have happened and I'm certainly looking forward to it."
One man who knows very well the dangers the team will face is Jim McNeill, who has been exploring the Arctic for almost 30 years.
He says that the biggest risk they face is being engulfed in broken sea ice.
"They have a wooden vessel. Even in a strengthened metal one, ice is pretty unforgiving," he says.
"It's far more dangerous when ice sheets start breaking up, with three to four feet chunks jostling about in a soup. That's something they really don't want to get involved with."
On top of that, the explorer says they can expect temperatures anywhere from 30C to -20C - and the possibility of being hunted by the local wildlife.
"When they camp there's a danger from wildlife, particularly polar bears, who are starting to get hungry at that time of year," he says.
With rescue almost impossible, the expedition will have to be completely self-reliant.
If they can avoid the bears and crushing ice, the team's final destination is the 1996 position of the magnetic North Pole.
It's a location the expedition leader has visited before, on foot. But now, the ice sheets are disappearing - opening up the possibility of a journey by water to the former pole.
"I've always loved the idea of first and fastest," says Beaumont.
"This is a journey that has never been attempted. It wouldn't have been possible before because of the polar ice cap.
"[We're going] where nobody's gone before - by boat. It's hugely exciting."