War comic Commando marks 50 years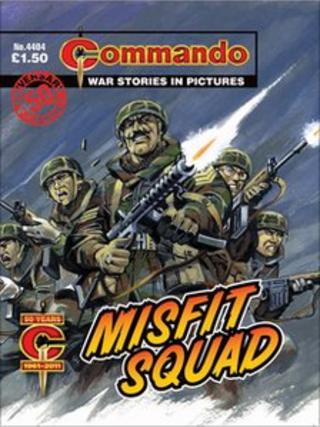 The UK's last surviving war comic is celebrating its 50th anniversary.
Commando, published by Dundee-based DC Thomson & Co, still features the black and white artwork it has had since 1961.
The comic is famous for its classic tales of heroism and self-sacrifice from the two world wars, but also has stories from more recent conflicts.
Now on issue 4,404, four editions of the pocket-sized comic are released every fortnight.
The 50th anniversary edition of Commando, with the classic illustrated front cover, is called "Misfit Squad".
Editor Calum Laird, who took over in 2007, said: "As someone who read Commando in the 60s and 70s, worked on the title as a junior member of staff in the 80s and 90s, and became editor in the 2000s, sitting in the hot seat for the 50th birthday is a great honour."
Publishers DC Thomson said writers and artists at the comic prided themselves on historical accuracy and their "enduring link" with the armed forces.
Recent research has shown that more than half of Commando's readers are veterans, or have a veteran in the family.
Mr Laird added: "Over the years, Commando editors have had messages of support from service personnel throughout the world. It's a tribute to everybody who puts Commando together that the tradition has carried on to the present day.
"If we can keep them happy with military tales, we've got to be doing it right."