Anniversary of Wallace Monument marked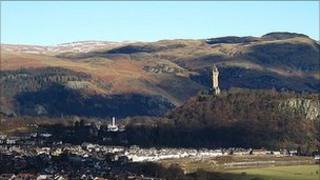 Celebrations are being held in Stirling to mark the 150th anniversary of the start of work on the Wallace Monument.
The foundation stone for the monument was laid on 24 June 1861, in front of thousands of people who thronged in Stirling and the Abbey Craig.
Paid for by public subscription, the project went over budget and it was eight years before it was opened.
In recent years, the Wallace Monument has attracted more than 130,000 visitors a year.
Between 2008 and 2009, major improvement work was carried out at the monument.
It included a new restaurant and visitor centre, with a viewing area facing the original 220ft (67m) tower.
Stirling Council said commemorative medals were given to the first 150 people arriving for the celebrations.
And the city's Provost, Fergus Wood, cut the monument's 150th birthday cake with a 5ft 4in replica of Wallace's battle sword.
Ahead of the celebrations, Mr Wood said: "This anniversary provides a link back to another major milestone in Stirling's historic timeline.
"It reminds us of events that took place in Stirling played a major role in shaping Scotland's destiny and of the city's rich and enduring heritage, portrayed through occasions such as this, and the re-opening earlier in June of the magnificent Royal Palace at Stirling Castle".