NHS Tayside cash to quit smoking scheme 'success'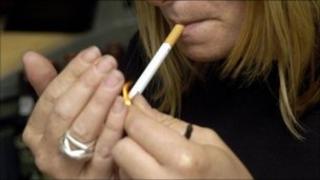 Only one in five pregnant women paid by NHS Tayside to stop smoking is able to quit for more than three months after their baby is born, figures have shown.
But health officials said the number was higher than any other smoking cessation scheme in Scotland.
And almost 60% of the participants - who were given £12.50 a week if they passed a breath test - gave up smoking for four weeks, the health board said.
The money can be used to buy baby products or groceries.
Participants attend a pharmacy every week for carbon monoxide tests and only received the money, credited to a store card, if they could prove they had not smoked.
'Miscarriage risk'
Support worker Tracey Furness said: "Giving up smoking is the single most important lifestyle decision that anyone can make to improve their health immediately and this is especially true in the case of pregnant women.
"Women who smoke during pregnancy run a higher risk of miscarriage and are more likely to have babies who develop health problems in later years."
NHS Tayside said 60% of participants in Perth and Kinross on the Give It Up For Baby programme had managed to stay smoke free for four weeks.
This compares with about 50% of people on other smoking cessation schemes in Scotland, which do not involve a financial incentive, according to the latest figures collected by the Scottish Public Health Observatory.
After 12 weeks, 36% were still not smoking - as opposed to 16% on other schemes. And 21.5% stayed off cigarettes for at least three months after the birth of their child.
The health board said similar figures had been reported for Dundee and Angus, though the success rate was not quite as high.
Since its launch in 2008, 678 women across Tayside have signed up for the scheme.
Sheila Duffy, chief executive of anti-smoking charity Ash Scotland, said: "Give It Up For Baby in Tayside has been an innovative project and I very much welcome the improved rates of pregnant women quitting.
"Smoking in pregnancy carries serious risks both for the woman and her unborn child so it is vital that there is good accessible help and support for women who want to stop.
"We also need to do everything possible to stop young people becoming hooked on smoking in the first place."
A similar scheme, targeting smokers in Dundee, was launched in 2009.