Falkirk trust set to take over council services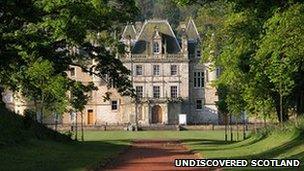 A musician and author has been appointed chairman of a trust set up to manage all cultural and leisure activities for Falkirk Council.
Ian Scott will take charge of the Falkirk Community Trust Board when it starts work on 1 July.
The trust, announced in January, will take over a range of activities, including running public libraries and the historic Callendar House.
Mr Scott is a former assistant principal at Falkirk College.
He taught history at the college and helped establish Falkirk Local History Society in 1981.
Mr Scott said the directors of the charitable trust believed it would be "vital" to the health and wellbeing of the community.
"In the present economic climate the new trust not only offers the chance to protect existing jobs and services but a real opportunity to build on what has already been achieved by developing new and exciting ideas in all the areas of the trust's work," he said.
Multi-million pound assets
Many of the council's parks and museums will be run by the trust after 1 July. The board will also take over the Hippodrome in Bo'ness and Grangemouth Stadium.
However, the council will retain control of community learning and development, library support for schools and bereavement services.
Falkirk Council said the new trust would generate savings of just under £1m a year on non-domestic rates and VAT. The authority will still own the multi-million pound assets controlled by the trust.
The new body will also be able to access new forms of funding that are not open to the council.
Other board members appointed include councillor Adrian Mahoney, who will be vice chair.
Related Internet Links
The BBC is not responsible for the content of external sites.