Adam Alexander police search field for his body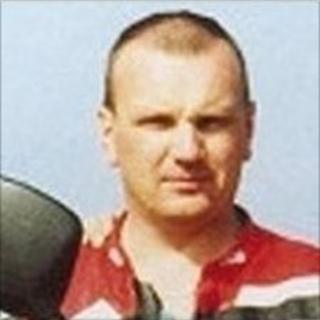 Police have been searching a field near Perthshire in the hunt for the body of a man killed 12 years ago.
Adam Alexander was killed in 1999 by his friend Thomas Pryde, who attacked him with a metal pole after a row.
Pryde was jailed last year after admitting culpable homicide, but Mr Alexander's body has never been found.
Tayside Police have repeatedly searched the area near Errol brickworks. Officers are using the results of a radar scan to help focus the search.
A spokesman for the force said they were not acting on new information.
Mr Alexander's mother, Patricia Bremner, also visited the site with officers hoping to find her son's body.
"They're trying their best but I feel despondent for myself and for them," she told BBC Scotland.
She said that if officers found her son's body it would be a "big release".
"There would be a lot of mixed emotions but at least I could give him a proper burial," she said.
"If Thomas Pryde had any feelings within himself he would tell us where he buried Adam and let it be over and done with.
"He has been given his sentence so what is stopping him from telling us where he buried Adam and let me and everybody else get on with our lives?"
Pryde, who ran a plumbing business in Scone, Perthshire, was jailed for 10 years in April 2010.
The father-of-one was finally brought to justice after confessing to his wife during a drunken holiday row years later.
He said that he had gone to Mr Alexander's home in Errol to discuss a business deal but a row had broken out.
Pryde then said he had "lost the plot" and picked up a metal bar before repeatedly hitting his victim until he died. He told the court he had panicked before hiding the body.
Pryde told officers where he buried the body but a large-scale search in 2008 failed to find any trace of Mr Alexander.