Patrick Rae to appeal against murder conviction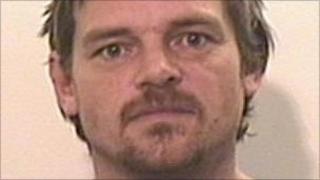 A man who raped and murdered a Dundee mother of three is to appeal against his conviction.
Patrick Rae was found guilty at the High Court in Edinburgh of murdering Mary McLaren in February 2010.
The serial sex offender was sentenced to life in prison and ordered to serve at least 20 years.
Rae, 41, was caught after CCTV images showed him dancing with Mrs McLaren and leaving Fat Sams nightclub with her on the night she disappeared.
Mrs McLaren's body was found in March 2010 hidden in undergrowth near the Ladywell roundabout in Dundee.
Rae killed her by repeatedly punching her on the head and striking her head and body on the ground.
Following his conviction, the court heard Rae had 13 previous convictions including rape, attempted rape, aggravated sexual assault, assault occasioning actual bodily harm and false imprisonment.
At the time of her death, Mrs McLaren - who had three children aged 18, 15 and 11 - had been looking forward to becoming a grandmother.