Eggs laid by oldest osprey 'Lady' fail to hatch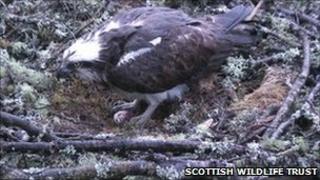 Three eggs laid by the UK's oldest-known breeding osprey have failed to hatch.
Hopes of new chicks were raised when the bird, known as Lady, returned to the Loch of Lowes reserve in Perthshire for a record-breaking 21st year.
But wardens now fear her age is catching up on her. She is thought to be about 26 years old while most ospreys live an average of eight years.
The three eggs she laid in April brought her total to 61.
Staff at the Scottish Wildlife Trust reserve were hopeful that the eggs would prove to be fertile and that the chicks would have hatched by late May, making Lady a mother for the 49th time.
It is thought a combination of the bird's age and the recent bad weather have had an impact this year.
Satellite tag
Anna Cheshier, a ranger with the trust, said: "We were optimistic about a successful hatching this year but sadly all three of the eggs have failed to hatch.
"It's incredible that this individual osprey is now around 26 years old and has produced 60 eggs in her lifetime.
"Unfortunately, it may be that her age has affected the fertility of the eggs this breeding season. We have also had terrible weather at the reserve, which inevitably puts the eggs at greater risk."
The failure of the eggs to hatch is a blow to staff at the reserve who had hoped to satellite tag the chicks as part of a project to better understand the 3,000-mile (4,828-km) migration back to west Africa.
But Ms Cheshier added: "We haven't written off our amazing osprey being a mother again just yet, as we hope to have more chicks hatching during the breeding season in 2012 and believe with Lady anything is possible.
"All going well next year, we will continue with the project."