Doors open after £12m Stirling Castle royal palace revamp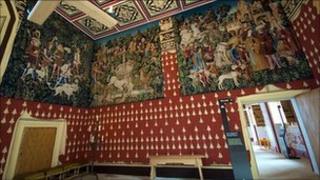 A £12m project to recreate the grandeur of Stirling Castle's renaissance royal palace has opened to the public.
More than a decade of research and craftsmanship has gone into the revamp to ensure the palace appears as it would have done in the 16th Century.
The royal palace was built for James V and Mary of Guise in 1538.
The refurbishment includes four giant tapestries and the installation of replicas of the Stirling Heads, carvings which date from after 1530.
Dowager queen, Mary of Guise, and her young daughter, Mary Queen of Scots, are known to have stayed at the royal palace in the 1540s.
A triptych in one of the six refurbished royal apartments features St Cecelia and St Clare, both of whom were closely associated with Mary of Guise.
Four giant tapestries, which have taken more than three years to weave, are also being placed in the palace.
The Stirling Heads were originally installed on the ceiling of the King's Inner Hall sometime after 1530.
A total of 34 of the original 37 heads, some a metre across, have survived since they were removed from the palace in 1777.
The remaining set, which depict historic figures and members of the royal court, became known as "Scotland's other crown jewels".
Exact copies of them have been reinstalled on the ceiling of the King's Inner Hall.
To mark the official opening of the royal palace, 60 costumed performers, including jesters and dancers, will perform at Stirling Castle over the next two days.