Patrick Rae guilty of murdering Mary McLaren in Dundee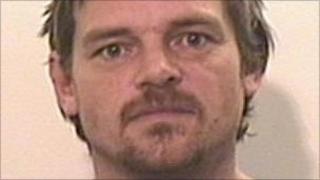 A man has been convicted of raping and murdering a mother-of-three in Dundee.
Serial sex offender Patrick Rae, had denied killing 34-year-old Mary McLaren following a night out at Fat Sams nightclub in the city in February 2010.
However, he was sentenced to life - with a minimum of 20 years - after a trial at the High Court in Edinburgh.
Rae, 41, was caught after CCTV images showed him dancing with Mrs McLaren and leaving the nightclub with her on the night she disappeared.
Her body was found two weeks later on 10 March, hidden in undergrowth near the Ladywell roundabout in Dundee.
In his closing speech to the jury following the four-week trial, advocate depute David Young QC said Mrs McLaren died a violent death.
Rae killed her by repeatedly punching her on the head and striking her head and body on the ground.
He also repeatedly struck her on the neck with a knife or similar instrument, before placing a piece of fabric round her throat and strangling her.
Following Rae's conviction, Mr Young told the court the accused had 13 previous convictions including rape, attempted rape, aggravated sexual assault, assault occasioning actual bodily harm and false imprisonment.
'Persistently lied'
Judge Lord Tyre told Rae: "You preyed on a woman you met at a nightclub who by all accounts was already the worse for drink.
"When she left the nightclub you attached yourself to her when she was alone and the last image of her alive was at the Ladywell roundabout.
"Shortly after you violently raped and strangled her leaving her body to be found days later.
"You have persistently lied and adapted your story and you have shown no remorse for what you did.
"The horror and terror Mary must have experience during this attack can only be imagined."
Rae was also put on the sex offenders register for life.
At the time of her death, Mrs McLaren - who had three children aged 18, 15, and 11 - had been looking forward to becoming a grandmother.
In a statement read out by Tayside Police family liaison officer det sgt Garry Fraser, the family said the verdict would not take away their pain or grief.
The statement added: "No sentence will stop the nightmares that we all have thinking about how Mary must have suffered at the hands of this man.
"We miss Mary. We always will. She was at the heart of this family when she was with us and remains there now.
"She loved us. We love her still and cannot believe that she is no longer with us."
The family thanked the jury in the case and said they had been overwhelmed by messages of support from the people of Dundee.
They added: "Patrick Rae has robbed us of a much-loved and loving daughter, wife and mother.
"He also denied Mary the chance of holding the grandchild that she was so looking forward to welcoming into the world."
Following the verdict, Catriona Dalrymple, district procurator fiscal for Dundee, said "Patrick Rae today stands convicted of two of the worst crimes prosecutors can encounter.
"He committed a horrific attack against a defenceless woman, and in doing so took the life of a young wife and mother."