Russell Crowe tours Duncarron Fort in Scotland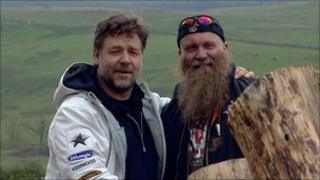 Hollywood star Russell Crowe, on his first trip to Scotland, has visited Duncarron Fort, a replica medieval village in the Carron Valley.
The actor is a friend of Charlie Allan, the chief executive of heritage charity the Clanranald Trust which is building the village in a Stirlingshire forest.
Crowe and Allan met on the set of the blockbuster movie Gladiator.
The Oscar-winning actor said the settlement was "very impressive" and would be a version of "living history".
Crowe, who said he had "Scottish heritage" in his family, said: "You can see photographs and you can talk about it but it is nothing like actually being here."
The Clanranald Trust is creating a motte and bailey, typical of a Scottish clan chief's residence, where people will eventually be able to to experience the atmosphere of an authentic medieval working community.
The charity also provides extras for film battle scenes and the hope is that the site at Duncarron may be used as a filming location in the future.
Crowe has been supporting the trust's work since meeting Mr Allan over a decade ago.
The New Zealand-born actor said: "I met Charlie on the set of Gladiator.
"The first time I ever saw him he was standing there in full regalia as the leader of the barbarians with a severed head in his hand, yelling stuff at me.
"I thought to myself 'I should go meet that bloke' and we've had a friendship ever since."
In 2009 Crowe gifted a battering ram used as a prop on the set of Robin Hood to the fort project.
Last month he used Twitter to urge his 200,000 followers to support the work being done at Duncarron.
He also tweeted a "shout out" to First Minister Alex Salmond and other government ministers to thank them for backing the trust.
Crowe highlighted the work the trust had done with the long-term unemployed and the criminal reform service.
But he said the educational value of the project was a key factor.
"This is going to be a place kids can come and walk through a version of living history," he said.
Crowe added that the village was also perfect for film locations.
"Just got to find the right story," he said.
The actor said he was still working out some of his Scottish genealogy.
He added: "But my mum has always talked very proudly about being a Wemyss, particularly the spelling, which always confused people when she was a kid."
"If you had asked me as a young fella 'would it take me until I was 47 to get to Scotland?', I would have said 'no way I'll be there way before then'."