Mary McLaren's fatal journey recorded by CCTV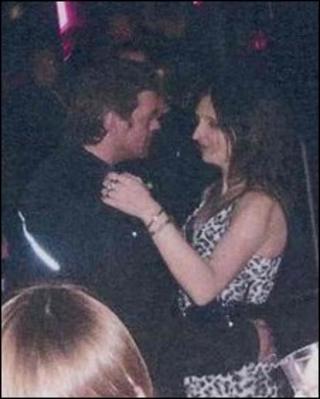 Patrick Rae's conviction for the killing of Mary McLaren comes 16 months after the mother-of-three was last seen alive.
One of the most striking features of the case was the part played by CCTV in securing that conviction.
Cameras inside Fat Sams nightclub in Dundee recorded Rae's interaction with Mary McLaren.
The 34-year-old had gone to the club for a night out with her sister Michelle Rodger.
Images from 25 February 2010 clearly showed Rae paying a lot of attention to the two women during his time at the club.
The ensuing trial at the High Court in Edinburgh heard testimony from Ms Rodger who said that Rae had said "weird stuff" to her and Mrs McLaren, telling them they were "going to die after sex".
Mrs McLaren's distinctive black and white dress and white duffle coat made her easy to spot in the CCTV images of the crowd.
The cameras clearly showed her dancing with Rae.
As the pair exited the club, CCTV also caught them leaving - proving that Rae had been with the murdered woman in the time before her death, despite his initial claims to the contrary.
It was this image and those of Mrs McLaren dancing with her killer, that were issued by Tayside Police in the initial days that followed her disappearance.
A massive police hunt involving 50 officers took part in the search to find her.
By scrutinising the nightclub tape, detectives were able to get a view of Rae.
He was quickly traced and brought in for questioning, but initially denied being with the mother-of-three upon leaving the club.
By studying street cameras, police found images of Mrs McLaren and Rae walking past a line of waiting taxis as they headed away from the nightclub in the early hours.
Footage then showed the couple up until about 0247 GMT at the Ladywell roundabout in Dundee.
On 10 March, two weeks after her disappearance, Mrs McLaren's body was discovered in undergrowth near the roundabout in Dundee city centre.
The trial in Edinburgh was shown images from 0451 GMT on the night Mary McLaren went missing, of a dark figure walking around the Cowgate area, metres from Ladywell roundabout.
That figure walked towards a Shell garage, where worker Graham Begg said that when Rae entered the shop, his attention was immediately drawn to him.
When asked by advocate depute David Young QC why, Mr Begg said: "The way he was acting in the shop, he kept looking behind him and never made eye contact or spoke.
"He kept looking out the window. He had a cut over his eye and he was covered in mud.
"The cut was above his left eye. He had mud on his hands, his coat and his jeans."
'Quilt of ivy'
The trial also heard that Mrs McLaren's body was discovered under a "quilt" of ivy.
Sgt Scott Finlayson said that he had been taking part in the search for her at North Marketgait on 10 March.
He said: "I could see there was ivy growing up the tall wall and there was a strip missing," which the witness described as a "little strange".
The trained search officer said he then looked into an area of fir trees where he saw a shoe.
He said there was also a "big clump" of ivy below the wall which was "like a quilt".
He added: "When I first saw it, it was like it had been carefully placed."
He said he carefully lifted one side and told the court: "I found a pair of feet and I knew right away there was a body there."
Pae was convicted of murdering Mrs McLaren by battering her on the head and body, striking her with a knife or similar object and strangling her.