Perth delivers city status bid to UK government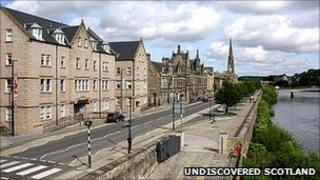 Perth has submitted its bid to the UK government to become Scotland's seventh city.
The application - based on Perth's history as the country's first capital - was delivered to London by Perth and Kinross Provost Dr John Hulbert.
Perth's city status was removed in 1975 as part of a local government shake-up.
The town is bidding to be made a city again as part of a UK-wide competition set up to mark the Queen's Diamond Jubilee next year.
The 50-page submission details Perth's ambition to be a "truly dynamic international city".
It also includes messages of support from First Minister Alex Salmond and other prominent leaders in Scotland.
The winner of the Diamond Jubilee competition is expected to be announced early in 2012
Golden Charter
Provost Hulbert said: "We have reached a crucial stage in our campaign to regain city status for Perth.
"This detailed document sets out clearly why we feel this civic honour should once again be ours, giving a wealth of information which I am sure will be food for thought.
"I hope our bid will be given its due consideration and we will await the announcement early next year."
Perth, which celebrated its 800th anniversary last year, is an "ecclesiastical city" because it has a cathedral, but is legally considered a town.
Perth and Kinross Council launched a claim for formal city status in 2005 after a search of its archives uncovered the "Golden Charter" of 1600 to back its claim.
Scotland currently has six cities. The newest are Stirling and Inverness, which joined Aberdeen, Dundee, Edinburgh and Glasgow.
City status is a reserved matter and is granted by the Queen under royal prerogative on advice from ministers.