Jewellery sends emergency health alerts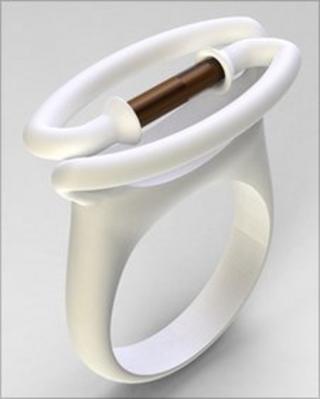 A Dundee art student has designed a piece of jewellery that can "broadcast" the wearer's hidden medical conditions to paramedics in an emergency.
Dougie Kinnear, 50, said existing medical alert bracelets were often "unattractive".
He said his looked like fashion jewellery but had a microchip in it.
Paramedics can scan the chip to be warned about conditions such as diabetes, epilepsy or asthma before treating the patient.
Mr Kinnear, a jewellery student at Duncan of Jordanstone College of Art and Design, said normal medical bracelets marked the wearer out as being afflicted with a medical condition - which put many people off wearing them.
Mr Kinnear's artwork is designed to be indistinguishable from other pieces of jewellery, but can hold the entire medical history of a patient.
The chips - which can be as small as a pinhead - use radio frequency identification technology to exchange data with a scanner and can be incorporated into existing jewellery
"People wear jewellery because they have formed an attachment to it, either because it is a family heirloom or because of how it looks," he said.
"At the moment these items are designed purely from a functional point of view, so that paramedics can easily and quickly locate jewellery giving information about a medical condition, but that's pointless if the people who need to don't wear it in the first place."
Mr Kinnear, from Glenrothes, said it was an "acute problem" among teenagers who were often ashamed of their condition and did not want to wear "clunky" jewellery.
The jewellery be displayed in the Duncan and Jordanstone College 2011 degree show, which opens on Saturday.