Stirling University plan to overhaul UK postnatal care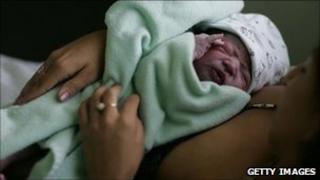 A project to "redesign" postnatal care in the UK has been launched by the University of Stirling.
Recent evidence suggests that current care is failing with "persistent" maternal ill health following childbirth, the university said.
The project will be piloted in Scotland before being made available to the whole of the UK.
It has been funded by the Royal College of Midwives and the Scottish government.
Dr Helen Cheyne, from Stirling University's school of nursing, midwifery and health, said maternity services were "challenged" to provide adequate postnatal care in a climate of financial restraints.
'Complex needs'
"During the last 20 years, observational studies have reported widespread and persistent maternal ill health following childbirth. For example, 30% of women have urinary incontinence after childbirth and postnatal depression is a major issue," she said.
"Midwives in the UK have a statutory duty to provide care to women after childbirth for a minimum of 10 days.
"However, competing priorities, the more complex health needs of women and increases in interventions during labour and birth have resulted in a system which does not meet the needs of women."
The National Postnatal Care Redesign Project will gather evidence from across Britain to develop a package of best practice in postnatal care.
Individual health authorities could then adapt it to their needs, the university said.
Parenting charity NCT said many first time mothers felt "helpless, isolated and abandoned" by the care they received in hospital and welcomed the project.
The organisation's senior policy advisor, Elizabeth Duff, said: "Being a new parent should be a positive experience and support in those early days and weeks is vital.
"Women and their families are being let down by current postnatal care and improvement is urgently needed to ensure new families get off to the best start."