Fife driver banned for life plus 99 years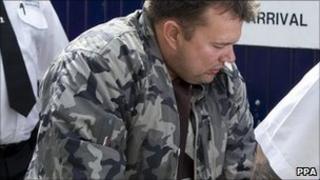 A sheriff has banned a driver for life - to add to the 99 years of disqualifications he already has.
Sheriff Lindsay Foulis also jailed Andrew Winsborough for 10 months and complained he could not send him to prison for longer.
The 42-year-old, from Kelty in Fife, admitted driving while disqualified and without insurance on the A822 Dunkeld to Amulree road on 12 May.
He has not been able to drive legally since 1989, Perth Sheriff Court heard.
Sheriff Foulis said limiting the maximum jail term for a banned driving offence to 12 months was "wholly inadequate".
'Inevitable' conviction
He told Winsborough: "You can count yourself lucky that the appropriate government hasn't seen fit to increase the maximum sentence for driving while disqualified.
"With your record, the maximum sentence of 12 months seems wholly inadequate. You have 15 convictions now for driving while disqualified. You have not been able to drive legally since 1989."
Winsborough appeared from custody and pled guilty at the first opportunity. The sheriff told him that would normally merit a three-month discount from the maximum sentence.
However, he knocked just two months off and told the accused that the circumstances of the offence meant that his conviction would have been inevitable even if he had gone to trial.
The court was told that Winsborough had been caught driving home from work in a friend's car last week.
Solicitor Louisa Wade, defending, said her client had been working on a site near Aberfeldy and was asked to stay late at work three weeks into his new job.
She said he was afraid to tell his "strict" bosses about his existing driving bans, so he decided to take the risk to drive 60 miles home in his friend's car which he had access to.
Ms Wade asked the court to limit the ban on Winsborough as an "incentive" for him to behave in future, but was told by Sheriff Foulis her client was in "no position to lay down conditions".
The sheriff said: "He is now coming up for 43 and has been disqualified since just before his 21st birthday. He has not been able to legally drive for 22 years.
"On 14 previous occasions he hasn't complied with that. We are talking about someone driving 60-plus miles from Aberfeldy to Kelty.
"That is not a particularly safe option for other road users. Wake up and smell the coffee, Mr Winsborough."