Scottish female priest misses out in bishop election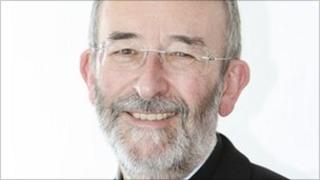 A Scottish Anglican priest has missed out in becoming the first female bishop of a major UK church.
The Rev Canon Dr Alison Peden was on a shortlist of five hoping to be elected Bishop of Brechin in the Scottish Episcopal Church.
The Venerable Dr Nigel Peyton was confirmed in the post following a vote by electoral synod of clergy and lay church members.
Mr Peyton is Archdeacon of Newark, Diocese of Southwell and Nottingham.
Following the meeting at St Ninian's Episcopal Church in Dundee, he said: "I am honoured to have been elected and look forward to returning to serve in the diocese where my ministry began."
The other candidates were the Rev Canon David Bayne, the Rev Canon Dr Alvyn Pettersen, and the Venerable Paul Ferguson.
Dundee service
The Bishop of Brechin Office became vacant in October, following the early retirement of Dr John Mantle, who died a month later.
All the candidates for the post were selected from nomination lists by a preparatory committee, who choose the shortlist. The five were interviewed by the electoral synod prior to the final vote.
The Primus of the Scottish Episcopal Church, the Most Rev David Chillingworth, said: "I congratulate Archdeacon Peyton on his election.
"The Scottish Episcopal Church will be delighted to welcome him to leadership in the Diocese of Brechin and to share in the life of the College of Bishops."
A service of consecration and installation of the new bishop will take place in St Paul's Cathedral, Dundee. Details of this service will be available at a later date.
The general synod of the Scottish Episcopal Church voted to amend its canons to allow the ordination of women bishops in June 2003 but no females have yet been appointed to the office.
Dr Peden, who is Rector of Holy Trinity Church, Stirling, and Canon of St Ninian's Cathedral in Perth, also stood for election to be a bishop in 2010 but failed in her bid.
She was on a shortlist of three to become Bishop of Glasgow and Galloway in January 2010 but the post was taken by Dr Gregor Duncan.