Grangemouth biomass protesters arrested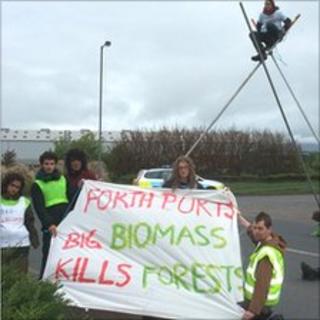 Seven people have been arrested in a protest against a proposed biomass power station at Grangemouth docks.
Twenty protesters from Action Against Agrofuels blocked both the access roads to the port, but police said they had now been reopened.
The group claimed the wood-burning power station would threaten forests and worsen climate change.
Forth Energy said the plant would use sustainably sourced fuel and produce low carbon electricity and heat.
The partnership with Forth Ports and Scottish and Southern Energy wants to create four plants in Scotland, at Dundee, Rosyth, Grangemouth and Leith.
Central Scotland Police said four activists had been arrested for causing an obstruction at South Shore Road. Three were arrested for the same offence at the Central Dock Road protest.
Road blocks
All seven are in custody and are expected to appear at Falkirk Sheriff Court on Tuesday.
Supt Robbie McGregor, Falkirk Area Commander, said: "Every effort was made to resolve this peacefully.
"The protesters were given every opportunity to end their demonstration and having failed to do so were arrested for causing an obstruction.
"We sought to minimize the impact of the protesters' activity for business in and around Grangemouth, and in particular the port, with a view to restoring normality as soon as possible."
Some of the demonstrators locked themselves to scaffolding tripods in the road to block the entrances to the port.
'Minimal impact'
Protester Johnny Agnew, from Glasgow, said: "Vast renewable energy subsidies, paid through all our fuel bills, are being offered for big biomass, which causes more climate change, more deforestation and more pollution. We are effectively subsidising ecocide."
The group said there was "nothing sustainable" about creating new demand for wood and that the plant would lead to health problems because of air pollution.
Calum Wilson, managing director of Forth Energy, said the action "clearly consisted" of people from outside the local area.
He added: "Whilst the impact on shipping operations in the port itself was minimised, their actions today disrupted the local community and the livelihoods of members of the haulage industry across Scotland.
"They sought to bypass the proper planning consultation process and could have compromised safety had there been an emergency at the port."