Call for gaming sector to have better recognition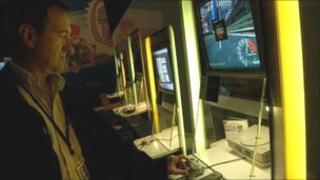 The UK's gaming sector should be given the same cultural recognition as the country's film industry, a Scottish university has said.
Paul Durrant, director of business development at Abertay University also hinted that such an outcome would aid the sector in securing tax breaks.
He said the industry had huge potential both in the UK and abroad.
The comments came after a House of Commons response into a Scottish Affairs Committee report on the sector.
Mr Durrant said he welcomed the fact that the government acknowledged the value of the computer games industry.
However, he said it was "disappointing" that the sector did not enjoy the same recognition as the film industry.
Paul Durrant, director of business development at Abertay, said: "There is absolutely no doubt that computer games is an industry of the future with huge growth potential, both for individual businesses and for the UK economy as a whole."
'Cultural importance'
He added: "We are very pleased to see the UK government acknowledge the value of the games industry and the crucial need for highly-skilled graduates, as well as praising the hard work by Abertay University to put industry skills and workplace simulation at the heart of everything we do.
"However, it is disappointing not to see the cultural importance of the games industry being accepted as equal to that of the film industry, particularly as the UK film industry benefits from tax relief because of this status."
The report also praised Abertay University for its drive to give graduates industry-relevant skills, as well as its progress on the £5m Prototype Fund, created to invest in new creative companies.
The Prototype Fund, co-funded by the European Regional Development Fund, the UK government and Abertay University, is open to applicants from across the UK.
So far, 57 applications have been submitted, with six projects by groups in Dundee, Liverpool, Bristol and Newcastle securing funding.