River Tay novice angler lands 38lb salmon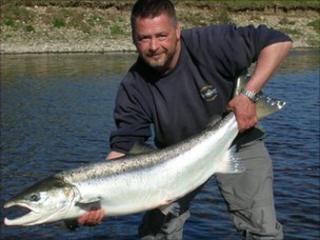 A novice angler has caught a 38lb (17.24kg) fish on one of his first day's salmon fishing.
Andrew McAdam was fishing with ghillie Steven McIrvine on the Glendelvine water at Murthly - the same area where Georgina Ballantine's famous 64lb (29.03kg) salmon was caught in 1922.
Mr McAdam's salmon was measured prior to its release and had a length of 117cm and a girth of 62.5cm.
It was 2lb heavier than the biggest salmon landed in Scotland last year.
Huston McCollough caught a 36lb salmon while fishing in the River Spey last May.
The Tay Foundation said during the past few weeks a number of fish in the 25lb (11.34kg) to 32lb (14.51kg) class had been landed.
Mr McAdam is understood to have fished for salmon once before in Alaska, and is usually a trout fisherman.