Probe after cat shot with air gun in Alloa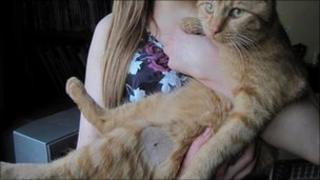 Animal welfare officers have appealed for information after a cat was shot with an air gun in Clackmannanshire.
The Scottish Society for the Prevention of Cruelty to Animals said the seven-month-old male was shot in the leg in Alloa.
The incident was reported on Sunday 17 April after the cat returned to its owner in the town's Fairyburn Road.
The charity has appealed for anyone with information about who is responsible to come forward.
Scottish SPCA inspector Louise Seddon said: "The cat is a seven-month-old ginger male called Indy.
"His owner saw blood on his left hind leg and thought it may have been caused by a tic.
"But she then found a small hard lump and took Indy to a local vet practice where an airgun pellet was removed.
"Thankfully, Indy is OK but this is a very worrying incident and we are keen to trace whoever was responsible."
The charity warned that shooting an animal was a serious offence and could result in a prison sentence and fine of up to £20,000.