Scotgold Resources withdraws planning refusal appeal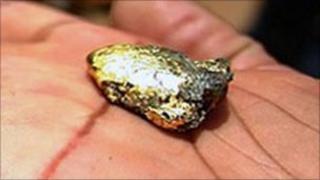 The firm behind plans to mine for gold in Loch Lomond National Park has withdrawn its appeal against the decision to refuse planning permission.
Scotgold Resources said it would submit a new proposal within the next two months instead of pursuing an appeal.
It comes after the national park turned down an application in August 2010 to mine at Cononish, near Tyndrum.
Scotgold believes the mine could produce 20,000 oz (567kg) of gold and 80,000 oz (2,268kg) of silver annually.
When the firm's original planning application was refused, it had lodged an appeal which was set to be heard in the coming months.
In response to the news, Gordon Watson, the national park's director of planning and rural development, said: "I can confirm that we have had progressive discussions with Scotgold Resources Ltd regarding a revised goldmine proposal at Cononish.
"The withdrawal of the appeal means our officers, rather than prepare for a public inquiry, can continue to provide detailed pre-application advice and prepare for when the second application is received."
Scottish gold is reported to be among the most expensive in the world - 0.035oz (1g) of it can cost more than five times the price of normal gold.
If plans work favourably for the company, it will be the first time the precious metal has been successfully extracted from a Scottish mine for more than 500 years.