Dundee leisure club hit by bug 'can reopen'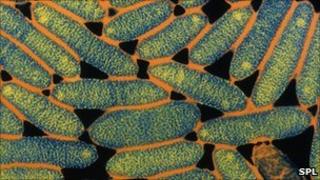 A Dundee leisure club which closed last month after dozens of visitors and members of staff reported flu-like illnesses has been cleared to reopen by health officials.
NHS Tayside said the Landmark Hotel's leisure club could reopen after the hotel implemented control measures.
One person was confirmed to have Legionnaires' disease.
NHS Tayside later said they believed many of those taken ill in mid-March were suffering from Pontiac Fever.
The condition is a milder form of Legionnaires' disease, caused by the same bacteria.
Health officials found legionella bacteria at the club during an investigation but only one case of Legionnaire's has been identified.
Dr Finn Romanes, NHS Tayside consultant in public health medicine, said: "We have identified 134 people who work in, or have visited, the Landmark Dundee since early March who report having had a flu-like illness.
"We are continuing to work closely with hotel management in this ongoing investigation.
"Dundee City Council environmental health officers have confirmed today that all required control measures have been taken and the leisure club can now be reopened for use."