Wester Moss reserve for rare large heath butterfly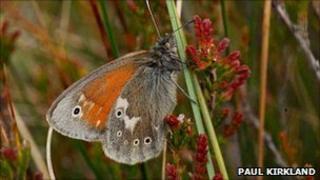 A bog near Stirling has been declared the first UK reserve for the rare large heath butterfly.
The reserve has been created at Wester Moss, Fallin, a lowland raised bog already designated as a Site of Special Scientific Interest.
Butterfly Conservation Scotland (BCS) said bogs were becoming "very scarce" in the UK habitat, as the peat is often extracted for horticultural use.
The large heath butterfly is a "bog specialist" that lives on peatland.
But BCS said 90% of the butterfly's Scottish habitat had now been lost.
Wester Moss is run by Stirling Council, who will now be able to draw on extra funding to help protect the 30-hectare site.
Council ranger Jennifer Davidson said: "It is fantastic that we have managed to work together to get Wester Moss adopted as a butterfly conservation reserve, which will not only benefit the butterflies and the bog, but also visitors from near and far."
The BCS and Stirling Council will now work with volunteers to block ditches and remove self-seeded trees and bushes.