Legionnaires' bacteria found at Landmark Dundee hotel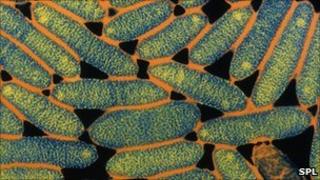 Health officials have confirmed that they have found legionella bacteria in a Dundee hotel's leisure club.
One man is being treated in hospital for Legionnaires' disease after visiting the club at the Landmark Dundee.
A further 103 guests and staff have also experienced flu-like symptoms over the past few weeks.
NHS Tayside said on Wednesday that they believed most of them were suffering from Pontiac Fever.
The fever is a milder form of Legionnaires', caused by the same bacteria.
Officials from NHS Tayside's health protection team and Dundee City Council have been investigating the illnesses.
Respiratory infection
The leisure club has been closed since 17 March. The NHS said the teams were continuing to "work closely" with the hotel to advise on what steps now need to be taken.
There have been no other confirmed cases of Legionnaires' disease aside from the man currently being treated at Ninewells Hospital in Dundee.
Dr Finn Romanes, NHS Tayside consultant in public health medicine, said: "We now have 103 people who work in, or have visited, Landmark Dundee who are known to have had a flu-like illness with a respiratory infection.
"As I said previously, it is now very likely that, in a number of cases, this illness could be caused by a condition called Pontiac fever."
The consultant said the fever was a short-lived, flu-like illness. Symptoms include fever, headaches and muscle ache.
Medical attention
But unlike Legionnaires', Pontiac fever does not cause pneumonia and usually clears up in two to three days without treatment.
Dr Romanes added: "No-one has yet been confirmed as having Pontiac fever. This is mainly because it is difficult to diagnose and can require up to three separate blood tests over a period of around four weeks.
"This underlines the importance of seeking medical attention and returning for a repeat blood test if advised by your doctor."
NHS Tayside is asking anyone who has visited the Landmark Dundee since 8 March - and who has symptoms of Legionnaires' disease - to contact their doctor or NHS 24.
The symptoms include include high fever with sweating, severe headache, shortness of breath and a pain in the side of the chest.
Victims also suffer from a cough which is either dry or with greenish, thick mucous and muscle aches and pains.