Osprey 'Lady' returns to Loch of the Lowes reserve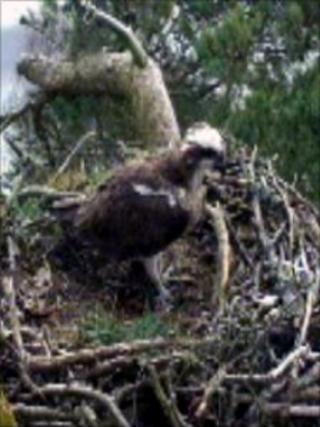 An osprey thought to be the oldest breeding female ever recorded in the UK has returned to its nest at a wildlife reserve in Perthshire.
"Lady" has nested at the Loch of the Lowes reserve near Dunkeld for 21 consecutive years.
The Scottish Wildlife Trust (SWT) feared the bird would not survive its migration to Africa last year after becoming weakened by illness.
But the charity said it had now "positively identified" Lady.
Wildlife experts said a close-up image of the bird's "distinctive" iris - seen from the camera trained on the nest - had enabled them to confirm the identity of the osprey.
Robert Potter, from the SWT, said: "To get the close-up image required, we need the bird to sit on the nest for a reasonable length of time in daylight hours.
"At the first possible opportunity, we used the camera to zoom in on the bird.
"To our delight and astonishment, the close-up allowed us to confirm that this bird is, in fact, our resident female osprey, known by many as 'Lady'."
'Interloping' female
But the bird could be facing competition if it is planning to breed this year, the SWT said.
Two other ospreys have been spotted on the reserve - one of which could be an "interloping" female vying for the male's attention.
The trust said it was also possible that the unidentified ospreys could already have bonded as a pair and be planning to take over the nest.
But Mr Potter said Lady was an "incredible specimen of nature" who was "holding her ground".
Lady suffered a bout of ill health in June 2010 and experts feared the bird would die when it stopped eating.
But thousands of people, watching via the webcam, witnessed the osprey's sudden recovery days later.
Female ospreys live an average of eight years and produce about 20 chicks in that time. Lady has produced 56 eggs and has now seen 48 fledge.
'Big question'
Mr Potter added: "Last year, we thought this bird would die on her nest but, at the eleventh hour, it managed to regain its strength.
"Today, despite the odds, it looks healthy after just completing a 3,000-mile migration from West Africa."
Bird experts and webcam viewers will now be watching keenly for the return of a male, which the trust expects to happen within the next week.
The charity said the "big question" on everyone's lips was whether the bird would be fertile enough to breed this year.
Female ospreys generally lay two to four eggs in early April. They then hatch about six weeks later.