Legionnaires' disease case confirmed in Dundee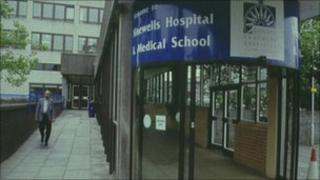 A man is being treated in hospital for Legionnaires' disease after using a hotel's leisure club in Dundee.
NHS Tayside confirmed the case after launching an investigation along with environmental health officers at the Landmark Dundee.
The inquiry was launched after 66 members of staff and visitors reported feeling unwell with flu-like illness.
NHS Tayside said there was no evidence of legionella infection in any other samples taken during the investigation.
The man was tested positive for Legionnaires' disease late on Friday and is currently being treated in the city's Ninewells Hospital.
Dr Christopher McGuigan, NHS Tayside consultant in public health medicine, said the flu-like illness had been short-lived for the majority of those affected.
He said: "We are not recommending that people should stay away from the hotel as the investigations are focusing on the leisure club which has been closed since the evening of Thursday, 17 March.
"We have been working closely with the hotel since the investigation started late last week and we are systematically carrying out all appropriate health and environmental tests."
He added: "We would ask anyone who has visited the hotel over the last two weeks and who has been unwell with a flu-like illness - for example, high temperature, chills, cough, headache or shortness of breath - to seek advice from their GP or from NHS 24."
The Landmark Dundee said it was "systematically carrying out all appropriate health and environmental tests" and following advice and direction.
In a statement, it said the health and safety of staff and guests was its top priority at all times.
It added: "We took the decision to close the leisure facilities at the onset of the situation on 17 March and these will remain closed until the investigation is complete."
The hotel remains open and in operation.
Disease symptoms
The symptoms of Legionnaires' disease include high fever with sweating, severe headache, shortness of breath, pain in the side of the chest, a cough which is either dry or with greenish, thick mucous and muscle aches and pains.
Some people also have diarrhoea and abdominal pain. The incubation period for the disease ranges from two to 10 days.
Legionnaires' disease is caused by inhaling infected water droplets.
The bacteria are common in the environment but illness only occurs when water containing the bacteria becomes an aerosol.
Most people exposed to these common bacteria do not become ill and the disease cannot be passed from person to person.
This week, a holiday resort near Dundee was fined £120,000 for a breach of Health and Safety legislation which led to the death of a former guest from Legionnaires' disease.
Experts investigated the Piperdam Leisure Complex after Edward Warnes, 60, who spent time there in March 2008, died of the infection a month later.
Legionella bacteria was discovered on a shower head and hot tub in the lodge.