Finnich Glen gorge rescue for women stuck on ledge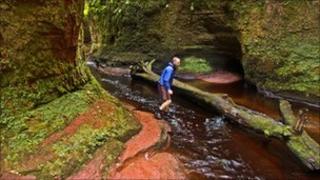 Three women have been rescued from a deep gorge in rural Stirling after becoming trapped on a ledge.
The trio were exploring Finnich Glen, near Killearn, and became stuck on a 20m (66ft) high ledge near a place known as Devil's Pulpit.
Two rope rescue specialists from the Central Scotland fire service were able to reach the women, thought to be in their 20s, and lower them to safety.
They were treated for possible hypothermia by paramedics.
The fire service said they were called out to the glen at about 1345 GMT and had spent just over two hours rescuing the women.
Four appliances were sent to the scene.
Steep steps
A spokeswoman for Central Scotland Fire and Rescue Service said: "Two rope rescue specialists from Alloa were able to get to the women.
"They lowered them from the ledge to crews at the bottom of the gorge who made sure they got out safely."
Finnich Glen is about 300m (984ft) long and up to 30m (100ft) deep in places.
The glen is popular with organised trips and generally requires swimming to travel its entire length, though the bottom end can be reached via steep steps.
The fire service said they understood the woman were not part of a guided tour and were exploring the gorge on their own.