Clackmannanshire takeaways 'beef up' lamb curries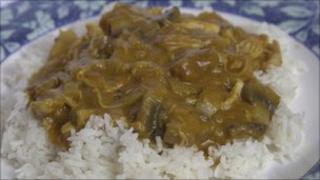 Takeaway owners have been "beefing up" lamb curries as part of a money-saving scam, health inspectors have found.
Ten out of 14 dishes sampled by officers at three Clackmannanshire shops contained cuts of beef, which is currently cheaper to buy than lamb.
The cost has been driven up by a drop in production - attributed to the harsh winter and strained economy.
Inspections in Falkirk in 2010 found that almost 75% of the takeaways surveyed were using the same scam.
Clackmannanshire Council said customers were being deliberately duped, with the spicy nature of curry dishes concealing the meat substitution.
John Gillespie, the council's head of community and regulatory services, said: "These takeaways are deliberately keeping their own costs low and getting an unfair advantage over the competition.
"Either that or they are just pocketing extra profit at the expense of their customers.
"Clackmannanshire prides itself on the standards achieved by its food businesses. However, it seems there are always a few who will let the others down."
Pursue suppliers
The local authority said beef is currently up to 20% cheaper than lamb in the wholesale market.
It urged takeaway operators to label curries correctly and be honest with their customers.
Further curry testing will be carried out in the coming weeks and any business found selling beef described as lamb will be reported to the procurator fiscal.
In cases where outlets have been sold what they believe to be lamb, officers will pursue their suppliers.
The practice breaks regulations set down by the 1990 Food Safety Act.