Money raised for Iron Age gold treasure find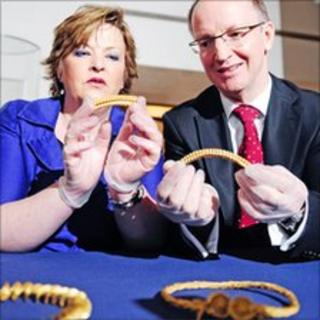 An Iron Age gold hoard found near Stirling by an amateur treasure hunter has been secured for the nation after a fundraising campaign.
The four neck ornaments - or torcs - were unearthed in a field by David Booth in September 2009.
Mr Booth will now receive a payment of £462,000 after National Museums Scotland secured the necessary funds.
The treasure trove, discovered at Blair Drummond, dates from between the 1st and 3rd Century BC.
The National Heritage Memorial Fund, the Art Fund, the Scottish government and National Museums Scotland all contributed to the funds needed to acquire the ornaments.
They will now go on display in the National Collections.
Mr Booth's reward was set by the Queen's and Lord Treasure's Remembrancer after he reported his find to the Treasure Trove Unit.
The chief game warden at Blair Drummond Safari Park, near Stirling, was using his metal detector for the first time when he found the torcs buried just six inches below the surface.
He has since discovered an 800-year-old medieval seal near Stirling.
National Museums Scotland said the neck ornaments were "exquisite examples" of Iron Age craftwork, with a unique braided gold wire torc showing "strong Mediterranean influences".
Museums' director Dr Gordon Rintoul said: "We are delighted to have secured this stunning hoard for display in Scotland's national museum.
"We already attract over 600,000 visitors a year from Scotland and across the world, and expect many more when the fully redeveloped museum opens this summer.
"The hoard is certain to become one of the highlights of a visit to the museum."
Scottish Culture Minister Fiona Hyslop said the torcs were the most important Iron Age gold hoard ever found in Scotland.
No ownership rights
She added: "I congratulate the National Museum of Scotland on its successful fundraising campaign to ensure that it remains here and will be on free display for the general public."
The torcs will go on temporary display in Hawthornden Court, the main courtyard of the National Museum of Scotland.
A permanent display will eventually be created in the Early People gallery.
Under Scots law, the Crown can claim any archaeological objects found in Scotland.
Finders have no ownership rights and must report any objects to the Treasure Trove Unit.