Female prisoner numbers in Scotland 'double'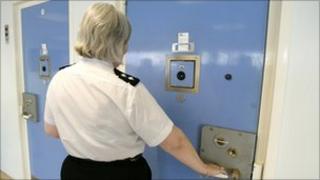 The number of women in Scottish prisons has almost doubled over the past 10 years, researchers have said.
A study found that Scottish courts were increasingly likely to give custodial sentences to woman and for longer.
Women over 30 were more likely to be handed a prison sentence by courts than younger women.
But the researchers, from Glasgow and Stirling universities, said there was no evidence that women were committing more crimes.
The study, by professors Gill McIvor and Michele Burman, was published by the Scottish Centre for Crime and Justice Research.
It found that between 1999-2000 the average daily female prison population in Scotland was 210, but by 2008-2009 this had risen to 413.
The average length of custodial sentences in the same time period had gone up from 228 days to 271 days.
Minor assaults
While sentences of three months had decreased sharply, there had been a big increase in sentences of between six months and two years.
The greatest reduction in the use of imprisonment for women was in the under-21 age group.
But the researchers said that data from five police forces in Scotland showed that the number of recorded crimes involving women had remained relatively stable, with some fluctuations in Strathclyde and Fife.
There was also no evidence that the seriousness of women's crime had increased, though there were rises in minor assaults and breaches of the peace, the study found.
The researchers said they attributed growth in the female prison population to increased use of custodial sentences - rather than changes in offending - but said the reason for the harsher sentences were not "immediately obvious".
'Safer' in prison
Prof Gill McIvor said: "The growth in female imprisonment in Scotland cannot be disputed.
"There is, however, no evidence that it has occurred because more women are entering the criminal justice system or being convicted of more serious crimes.
"Given that most female offending does not involve serious offences, the dramatic increase in the use of custodial remands and sentences for women is a significant concern."
Last year, the governor of Scotland's only women's prison, Cornton Vale in Stirling, admitted that most of those held there should not be in jail.
Teresa Medhurst said many prisoners had such complex problems they actually felt safer in prison than at home.
The Chief Inspector of Prisons, Brig Hugh Monro, said the jail was "in crisis" and "drifting" in a report published in January 2010.