Tunnel found in Forth Valley hospital grounds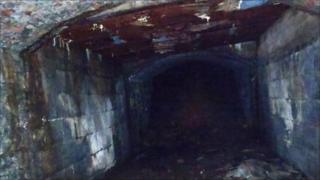 An abandoned tunnel has been found in the grounds of a Falkirk hospital.
The brick-lined tunnel links a derelict mansion and ornamental loch which forms part of the estate of the new Forth Valley Royal Hospital.
Ranger Gordon Harper made the discovery while clearing rhododendron bushes on the loch's shore.
It is thought the tunnel would have allowed wealthy guests staying at Larbert House 200 years ago to avoid staff on the walk to the loch.
The hospital, opened in August 2010, is clearing the 70-acre estate to turn it into a "woodland oasis". A Forestry Commission Scotland ranger was appointed earlier this year to look after the grounds.
The tunnel was at first thought to be part of a boathouse, which is marked on a first edition Ordnance Survey map of the area.
Geoff Bailey, keeper of archaeology at Falkirk Council, said the "fantastic" tunnel - dating from about 1800 - was likely to have been built to preserve the privacy of the gentry.
Mr Harper said: "I have really enjoyed investigating the history of this site.
"I thought we would uncover hidden features when we cleared the rhododendron but didn't expect to find something so exciting as a tunnel."
Larbert House, a Category B listed building, was the residence of the Stirling-Chalmers family for many years.
It was designed by David Hamilton and built for Sir Gilbert Stirling in 1822. The house lay derelict for several years and was badly damaged by a fire in 2006.