Fire damages Blair Castle clock tower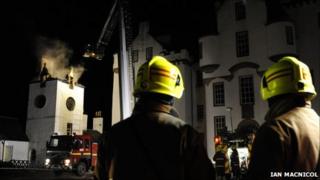 A blaze has ripped through part of a 13th Century castle in Perthshire, causing the roof and second floor to collapse.
Fire crews were called to Blair Castle near Blair Atholl at 2035 GMT on Thursday after flames were spotted in the clock tower.
Castle staff had begun tackling the fire when crews arrived. It was kept in the tower and no-one was injured.
Blair Castle is the ancient seat of the Dukes and Earls of Atholl.
A Tayside Police spokesman said there was a "significant amount of damage" to the clock tower.
The cause of the fire is not yet known, but Tayside Fire and Rescue said there were no apparent suspicious circumstances.
Floor collapse
The fire service said they had received several calls about the fire and had sent seven appliances to tackle the blaze in the 740-year-old building.
A total of 50 firefighters attended the incident, as well as an aerial appliance from Perth.
A fire service spokesman said: "The first fire crew on the scene from Pitlochry arrived just as the roof of the clock tower collapsed onto the floor below.
"The weight of the debris and the developing fire soon resulted in this floor subsequently crashing down onto the next floor level.
"By this time, firefighters wearing breathing apparatus had positioned themselves within the two residential wings that adjoin the clock tower and they were successful in containing the fire and preventing it spreading laterally to other parts of the castle."
Appliances were able to pump water from a burn in the castle grounds to use on the fire, while castle staff removed valuable artefacts from the building in a "well-rehearsed" salvage plan in case the blaze spread.
Damage assessment
Tayside Fire said the adjoining buildings had been "thoroughly checked" by firefighters using thermal imaging cameras to ensure the blaze had been fully extinguished.
Incident commander Rab Middlemiss said: "We carry out annual exercises with staff to ensure that we are able to respond as effectively as possible to any incident at Blair Castle and that proved to be very successful at last night's fire.
"Through a combination of the swift actions of castle staff and our firefighters, particularly those first crews to arrive at the scene, this fire was contained to the clock tower building."
A structural engineer from Perth and Kinross Council will now visit the castle to assess the damage.
An investigation has been started into the cause of the fire.