Poems by world's 'worst poet' William McGonagall read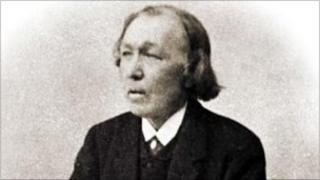 Several poems by a man often labelled as the worst poet in the English language are to be publicly recited for the first time in more than 100 years.
The poems by William Topaz McGonagall, who was born in Dundee in 1825, have never been published.
They were discovered last year by local historian Norman Watson and will be read at Dundee University as part of the Ig Nobel awards show.
The awards celebrate "improbable" research and achievements.
A spokesman for the university said McGonagall's work fitted "perfectly with the ethos" of the Ig Nobels.
"He is considered by many as the worst poet in the English Language, and his recently discovered work may be viewed as being of absolutely no literary importance, but will undoubtedly be of great interest and enjoyment to many in the English-speaking world," he said.
At the award show on the 19 March, audience members will also be asked to read together aloud the concluding lines of McGonagall's most famous poem, The Tay Bridge Disaster.
As well as the poetry readings, Ig Nobel awards will be presented to someone who researched how your underwear could save you from certain death.
Another prize winner is set to explain what it might mean when a bird flies into your window.
The organiser of the Ig Nobel Prizes, Guardian columnist Marc Abrahams, will also review the past year's improbable research at the event, which is being held in Dundee for the first time.