Academic sent death threats to Stirling University boss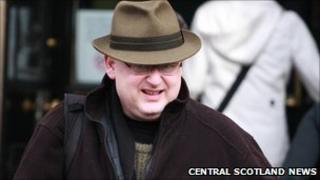 An academic sent abusive e-mails to a university boss and threatened to slit her throat, a court has heard.
Postgraduate researcher Iain Patek sent the e-mails after becoming involved in a dispute with the deputy secretary of Stirling University, Eileen Schofield.
The 49-year-old e-mailed two messages from his staff address to Mrs Schofield threatening to kill her if she ever "messed with him again".
Patek, from Stirling, was sentenced to 100 hours community service.
Stirling Sheriff Court heard that police and university security were called after he sent the death threats to Mrs Schofield, who was responsible for staff discipline.
He was suspended from his job at the university's School of Applied Social Science and banned from the campus.
Abusive message
Sonia Kalkat, prosecuting, said in one of Patek's letters he told Mrs Schofield his threats were an "absolute promise" and he wanted her to contact police so it would go to court.
The depute fiscal said he had become involved in correspondence with the university on another matter and had sent the e-mails on the evening of 7 November 2010.
The first had an abusive subject heading and ended "Mess with me again and I will kill you", Ms Kalkat told the court.
A second e-mail a few minutes later had another highly abusive subject heading.
It read: "Schofield, whatever my partner and lawyer discussed with you, remember if you ever lie to me again as you have done, I will come to that university of yours and slit your throat."
"This is an absolute promise. Please contact the police. I want a court case."
The next morning Mrs Schofield read the e-mails and the police were contacted. Officers went to Patek's home and he was detained.
'Grossly menacing'
Patek pleaded guilty to committing a breach of the peace by sending the e-mails to Mrs Schofield threatening to kill her, and threatening further violence towards her.
Defence solicitor Ken Dalling said Patek had sent the threats after become caught up in grievance procedures with the university about another matter.
Mr Dalling said: "The two e-mails were not 'an absolute promise'. It was a hollow threat.
"It was his way of dealing with the grievance procedures. He has difficulty empathising with others."
Sentencing Patek, Sheriff William Summers said the e-mails had been "grossly menacing, aggressive and threatening".