Scotland's first community payback criminal jailed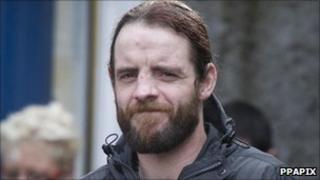 The first criminal in Scotland to be given a Community Payback Order instead of a prison sentence has been jailed after failing to attend three meetings.
Laurence Winters, who has criminal record going back 24 years, was placed on the new scheme in February following a public order offence.
The 39-year-old was ordered to carry out 60 hours community payback.
But he was remanded in custody after blaming his absence on a heart attack, a road accident and an epileptic fit.
When he appeared at Perth Sheriff Court, Winters denied breaching the order and said he had documentation at home which would help prove he had been unable to attend the meetings.
However, Sheriff William Summers - who first imposed the groundbreaking order - said he believed Winters posed a significant risk of committing more offences and remanded him in custody.
A hearing on the alleged breach will take place on 28 March.
Winters - whose record contains 160 previous offences - was placed on the controversial new scheme despite the sheriff telling him he had the worst record he had ever seen.
Sheriffs have been told to consider imposing the order - often involving manual labour such as removing graffiti or renovation work - as an alternative to jail terms of less than three months.