Parents warn of Strathblane crossing danger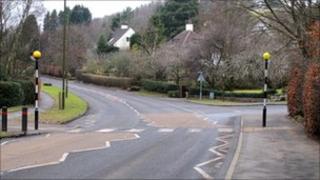 A zebra crossing near a village school is so dangerous it is only a "matter of time" before a child is seriously injured or killed, parents have warned.
Dozens of complaints have been made to police about drivers ignoring the A81 crossing in Strathblane, Stirling.
And last year a lollipop lady resigned after several near-misses when she was helping children cross.
A request to install a traffic light-controlled crossing was turned down by Stirling Council.
Road safety engineers instead recommended increasing the visibility of the crossing and cutting back vegetation, but improvements would be subject to "future availability of funding".
Strathblane Primary School is now keeping a log of all future complaints of drivers failing to stop as part of the campaign to get traffic lights installed.
A driver was prosecuted last year for overtaking on the crossing and almost hitting a pedestrian.
Serious accident
Mother-of-three Christine Baume, who lives in Strathblane, said a lollipop lady taken on in August 2010 had given up the job after a few weeks because she was convinced she would get knocked down.
"She was working in a fluorescent yellow jacket and people are not stopping - what chance does anyone else have?" she said.
"Children cannot cross that road on their own safely because drivers just do not stop.
"It's just a matter of time before a serious accident or a fatality happens."
Willie Oswald, from the Strathblane Community Council, said he would like to see a police scheme where drivers ignoring the crossing could be confronted by local pupils.
He said that "probably more than 80%" of drivers travelling through the village on the A81 were regular commuters.
"Drivers know full well there's a crossing there and a school there - but they seem totally oblivious. They might take more care if it was their children crossing."
A report by a road safety engineer at Stirling Council said: "The Zebra crossing does not appear to function as well as intended.
"For whatever reason, some drivers seem to have difficulty complying with the requirement to stop when the crossing is in use."
But the report added: "There is nothing to suggest that installing a signalised crossing would address the identified issues."