Legal challenge over River Tay's wild beavers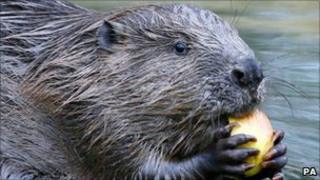 An order to trap escaped beavers in Tayside could be challenged in the courts, campaigners have said.
The Scottish Wild Beaver Group said there was a legal "muddle" over whether the beavers could be recaptured.
Up to 20 beavers are believed to have escaped from private collections in Angus and Perthshire and are now living and breeding on the River Tay.
Scottish Natural Heritage (SNH) said it was not aware of a legal case against the trapping.
The organisation ordered the recapture of the feral beavers in November, saying it was illegal to allow their escape or release into the wild.
An official trial reintroduction is currently being held at Knapdale in Argyll.
SNH chief executive Ian Jardine said the trial was "setting a standard" for how to do things properly.
Trial refused
"I'm afraid the presence of beavers on the Tay undermines our credibility as a country in handling these things properly, legally and democratically," he said.
"You have to believe in upholding wildlife law or not. You can't say we'll follow it when it suits us and not follow it when it doesn't suit us."
But the Scottish Wild Beaver Group said it believed that feral beavers in Scotland were protected by European law - whether legally introduced into the wild or not - and is now preparing to take action to "clarify" the legal position.
In 2005, the then deputy Scottish environment minister Rhona Brankin turned down a beaver trial over the legal implications if the reintroduction plan was abandoned.
But the decision was reversed in 2008 and the trial began a year later.
Wild beaver group spokeswoman Louise Ramsay said the Scottish government was "flouting" European law with the trapping order.
She told the BBC News website: "This state of affairs is bringing conservation in Scotland into international disrepute.
"[The government] should recognise that what we have is a de facto reintroduction, but that any problems can be dealt with sensibly as they are in other countries in the EU."
Mrs Ramsay said the group was also concerned about the implications of SNH advice to landowners that the beavers could be legally killed, and said there were "persistent rumours" that two had already been shot near Meigle.
She added: "We believe that all parties involved will benefit from having the legal position clarified, whatever their views on beavers might be."
SNH confirmed it had told landowners it was not illegal to shoot the beavers but said it was not encouraging it.
"What we are advising landowners is to contact us so we can trap them," a spokeswoman said.