How can technology help dementia patients?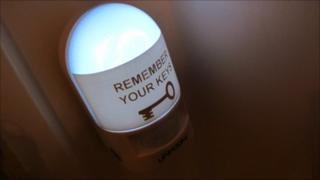 Dementia can be a stressful and lonely experience for patient and carer, but technology can make life easier and safer for both. Scientists at Stirling University have created a "dementia house" to show how simple design can make a big difference.
At the top of the stairs in the unit is an over-sized, bright blue light switch with a contrasting white dot in the middle.
Like many of the features at the Dementia Centre, making such an essential object easy to find and use seems an obvious way to help someone whose eyesight and mind are failing.
But the unit's director, Professor June Andrews, says that years of research have gone into finding such simple solutions.
"What you end up with in hindsight is completely obvious," she says.
"But the real trick is getting people to the hindsight stage."
Dementia - the most common type being Alzheimer's disease - is generally found in the over 65s, and as well as the progressive loss in brain function, it is common for those with the condition to have poor eyesight as well.
So light switches contrast highly with the walls, toilet seats are red and cupboard doors are bright green.
All the rooms are lit brightly and evenly - another simple change that can have a big impact, says Prof Andrews.
"Some think that the light level makes a bigger difference than the medication," she says.
"I don't know if that's right or not... but increasing the light level can make a huge difference."
Colour is also used to disguise the irrelevant, to simplify the living spaces of people who can be easily confused.
The Dementia Centre's Eileen Richardson, who gives tours of the suite to professional and home carers, points out a door which is designed to blend into the background.
"The cleaner's cupboard is a white door against a white background," she says.
"It's disguised by just being uninteresting."
The same principle is used on the flooring - which is uniformly blue throughout the suite - to help prevent trips or falls, says Ms Richardson.
"The blue carpet leads onto blue vinyl and has a blue divider strip, so that we're continuing the same colour as close as possible," she says.
"If we were to change the colour dramatically, and have a contrasting colour, it could look like a different level. It could cause hesitation and ultimately a fall."
Prof Andrews says the centre's designers also work to "de-clutter" the space, getting rid of what is not needed, and bringing essential items to the fore.
"If I walk into my kitchen and see things that are more interesting than my kettle, I may walk away without making a cup of tea, because I've forgotten what I went in for," she says.
Another focus for academics studying dementia is simply trying to encourage people to eat.
"Getting a person with dementia to eat is like the opposite of Weight Watchers.
"You have to buy delicious food and put it on display. You've got to tempt them," says the professor.
"There's no point in hiding the food in a Tupperware box or cupboard, because they will never find it."
Inside the dementia suite's kitchen, the cupboard doors are transparent and even the fridge is glass-fronted - an idea borrowed from the pub and hotel trades which are always tempting people to eat and drink more.
Throughout the rest of the dementia house are dozens of other ideas - pressure switches that turn reading lights on when you sit down, GPS trackers, an array of pill dispensers and a recorded message, triggered when you leave the room, that reminds you not to leave your keys behind.
On the wall is a large analogue clock that tells people if it is night or day, and underneath it a telephone with small photographs on the speed dial buttons rather than anonymous numbers.
And a touch-screen computer that provides clear and simple access to email and the internet is a sign that researchers are also planning for the dementia sufferers of the future.
"It won't be many years before the people in care homes have already had experience of computers," Professor Andrews says.
"People are thinking ahead. They're working on the assumption that people will want this soon."
Hear more on this story on the BBC World Service Health Check programme.