Man jailed for 'vicious' salvage yard robbery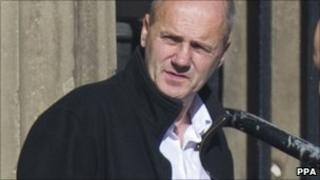 A masked robber who held a couple hostage and subjected them to a sustained attack during a bungled robbery has been jailed for five years.
Brian Blair, of Maryhill, Glasgow, was part of an armed gang who broke into a couple's home, tied them up, assaulted them and dumped one in an icy river.
Blair, 50, was one of three men involved in the attack at Dalcrue Auto Salvage yard, Perth in November 2009.
Perth Sheriff Court heard the gang believed the couple owned the site.
Blair's brother Thomas was given 120 hours community service for his part in the crime.
Thomas Blair admitted driving to the couple's home and handling the goods stolen from them.
'Frightening'
Jailing father-of-four Brian Blair, Sheriff Michael Fletcher cut his sentence by nine months to five years because he "showed a spark of humanity" during the couple's ordeal.
The sheriff noted that Blair helped his female victim Annabelle Hutchison, 59, get medication for her heart problem after she asked him for help.
He also took account of his guilty plea which prevented Ms Hutchison - who was said to be terrified of facing him in court - from having to give evidence at a trial.
Sheriff Fletcher told Perth Sheriff Court: "This was a vicious offence which was particularly frightening because it took place in a situation where you went into someone's residence and committed the offence in that way.
"There's no doubt at all that if you hadn't shown some spark of humanity during the course of the incident I doubt I would have been able to deal with it, and it would have had to go to the High Court."
Freezing water
The court heard that Ms Hutchison and her partner Gordon Barnes, 57, were bound by electrical cable during the hour-long ordeal at their home within the grounds of Dalcrue Salvage Yard.
Mr Barnes had a plastic bag forced over his head before being dragged by his bound wrists and ankles and dumped in the River Almond by Blair.
His partner was also bound up with electrical cables and was forced to watch as one of the balaclava-clad trio held a knife at her cat's throat.
She was made to watch as her partner was bundled out of the cabin where they live and shoved down the banking into the freezing water of the river.
The gang had mistakenly believed the couple, who lived in a cabin within the salvage yard, owned the business and kept large sums of money on-site.
But after taking the couple hostage for an hour, they eventually realised there was no money, and one of the masked men was heard saying they had made a mistake.
Brian Blair admitted being one of the masked trio, while his brother had more serious charges dropped by the Crown. A third co-accused, Isaac McPhee, had all charges dropped.