Players offer to play for free this month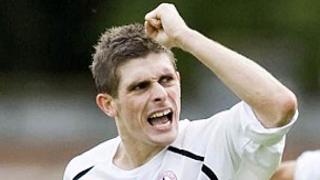 Stirling Albion players have offered to forgo their wages this month.
The gesture comes after three months of match postponements due to the severe weather conditions, which has resulted in no income for the club.
A fundraising campaign to secure additional donations from fans on top of their admission price, has been also been launched.
A club spokesman said: "This is a fantastic gesture from the players."
Paul Goodwin added: "Since the Supporters' Trust took control of the club just seven months ago we have managed the affairs of the club prudently and within an agreed financial structure.
"However, no business can cope without any income for three months and with every bill paid we are now operating at the bare minimum, which is why we started the Fan Aid campaign.
"Having the players come to us to say they appreciated our efforts and wanted to be part of the campaign just says how they feel about our club."
Club Captain, Ross Forsyth, said: "The owners - the fans - have done a great job given the unique circumstances and the team appreciate just what they have achieved and wanted to support the Fan Aid campaign.
"The boys just felt that as we are all in this together saying that we didn't want paid in February was a positive thing that we could all do."