Loch Lomond water bus pier work begins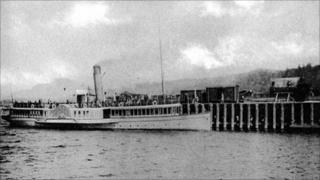 Plans to reintroduce water buses on Loch Lomond have taken a step forward, following the start of work on pontoons and piers for the project.
Loch Lomond and the Trossachs National Park Authority hopes the water buses will boost water-based tourism, recreation and transport services.
They want to reintroduce historic water transport routes which were popular in Victorian times.
A water bus service tested last year attracted more than 5,000 passengers.
Work to the piers and pontoons will be carried out over the next two months, and will include upgrades and maintenance at Luss, Tarbet, Balamaha, Balloch, Inveruglas and Inchcailloch.
Environment Minister Roseanna Cunningham commented: "Some of the world's best-known tourist destinations have their own water transport.
"Venice has the Vaporetto, New York has the Staten Island ferry, while there is water transport on Lake Windermere and Lake Coniston. Now Loch Lomond will soon be joining them."
She added: "Travelling across the water will let people see the spectacular scenery from a different perspective and allow them to really relax while doing so, making the experience all the more enjoyable."
Transport 'pioneers'
Fiona Logan, chief executive of Loch Lomond and Trossachs National Park, said: "Historically the water has always been used to transport visitors, residents and goods across Loch Lomond and it really is a case of the Victorians being pioneers for early tourism and transport.
"We want to take these great ideas and inject some 21st Century innovation to create thriving towns and villages connected by water transport while showcasing the unique assets of the area."
Ms Logan also argued new and greener methods of transport could reduce traffic management issues in "key hotspots" while cutting carbon emissions.
She added: "There are huge benefits to our visitors if more water-based tourism and transport is encouraged around the loch, but more importantly there are significant economic benefits to the towns and villages which rely heavily on tourism."