Caretaker rescues man from flat fire in Dundee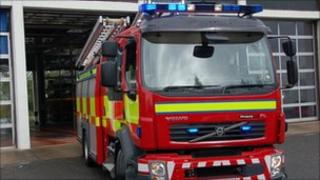 A caretaker has rescued a man from a burning flat in Dundee after being alerted by the building's linked smoke alarms.
The fire broke out in a first-floor flat of the four-storey Burnside Mill building in Milnes East Wynd just before 2330 GMT on Friday.
The caretaker was alerted by a smoke alarm system that links all 20 flats.
He suffered burns to his hands during the rescue and both men suffered smoke inhalation.
They were given oxygen at the scene before being taken to hospital.
A spokesman for Tayside Fire and Rescue Fire Service said the fire was caused by a chip pan which had been left unattended.
Group manager Rab Middlemiss, from the fire service, said: "Recently within Tayside and across Scotland we have tragically seen a number of fatal fires, often these are attributable to a combination of smoking, drinking or alcohol.
"Thankfully on this occasion all the residents were alerted promptly by hard-wired linked smoke alarms throughout this property and quickly evacuated to a safe area."
'Stark reminder'
He praised the actions of the caretaker and neighbours, adding that the consequences could have been far more serious.
"This should serve as a stark reminder to the public of the danger of fire within their homes and the need to have working and regularly-tested smoke alarms fitted.
"It also highlighted the benefits of having a well-rehearsed fire action plan so people know how to act should they discover or are trapped by a fire in their home. "
He added that every fire and rescue service in Scotland now offers free home fire safety visits and fits smoke alarms where necessary.