Holocaust survivor Eva Schloss visits Larbert school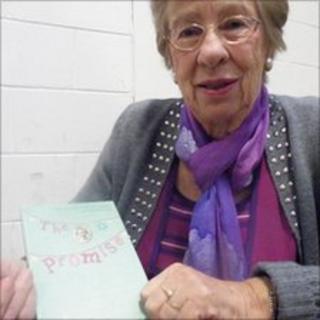 The step-sister of World War II diarist Anne Frank has met pupils in Scotland to recount "untold stories" from the Nazi Holocaust.
Eva Schloss, who survived nine months in Auschwitz, spoke to pupils at Larbert High School.
The visit was part of events commemorating Holocaust Memorial Week.
The 81-year-old joined pupils and staff at the school for a performance of a play recreating her experiences during World War II.
She said: "Six million people perished in the holocaust, but that is such an incomprehensible number, it's very important to hear individual stories - how people survived but as well how people died.
"And this year, holocaust memorial is about untold stories, so it is very important to tell as many stories as possible to know individual sufferings."
Mrs Schloss emigrated with her family from Austria to Amsterdam in 1938, when she was 11 years old, and moved into an apartment opposite Anne Frank and her family.
Her mother later married Otto Frank, the widowed father of Anne.
She said: "After two years in hiding and being afraid every day that we would be arrested, it happened - on 11 May on my 15th birthday.
"We were immediately taken to Aushwitz and unfortunately my father and brother didn't make it."
Mrs Schloss said it was more important than ever to tell people what had happened in the Holocaust.
"All the survivors are quite elderly, unfortunately, and in a few years we won't be around," she said.
"It will be up to the young people to remind the world that they have seen and spoken to a holocaust survivor, that it did happen, and know their stories."
Larbert High School pupil Andrew Lind said: "I think it's a fantastic experience when we get to meet people like Eva, who are living history, and it's just an amazing chance because I don't think most of us will ever get this opportunity again."
The multimedia play - And Then They Came For Me - uses interviews with Holocaust survivors and live actors to recreate the lives of Eva Schloss and Ed Silverberg, Anne Frank's boyfriend during World War II.
After watching the play, Mrs Schloss helped pupils plant a memorial tree in the school grounds and answered questions about her life.